If you've been following our blog, you know that pop up shops are more than a passing trend. They're a major part of the marketing schemes of big brands throughout Ireland and across the UK. However, even within the niche, these brands are showing us new ways of attracting customers, growing businesses, creating relationships, and establishing a footprint. It's not surprising, then, that what we see happening here in Ireland is not necessarily what you'll see in pop up shops in other parts of the world. Take a look at these four global trends and prepare to be awed, inspired, and perhaps even a bit shocked.
1) Offbeat Humour in China
Most of us were surprised when the poop emoji took centre stage. Not only was it a little shocking, but it was so out of place amidst all the bright yellow smiley faces. That's kind of what's happening with Chinese pop up shops now, but it's on a whole different level. Take, for example, ORZ Cha, which was open in Shanghai for a few days back in May. The café's name translates to "Life Sucks," and their specialty was disparaging teas. If you were more than a little overweight, the black tea was to be your ideal match. Green tea "for those who always work overtime without getting a pay rise," and, if your life was a total failure… well, oolong tea was best. Not to be outdone, a flower shop named "break-up" also launched nearby for a single day of heart-breaking bouquet sales.
2) Micro Pop Up Shops in Japan
Space in Japan is at a premium for sure. The country is responsible for many space-saving innovations that have spread globally, but the latest is a little beyond belief. When Duncan Shotton Design Studio wanted to promote its lineup of fun thumbtacks, the group knew the miniature "Real Boy" tacks would be lost inside any kind of traditional storefront. Plus, getting some added exposure for an outlandish idea couldn't hurt, so they designed the smallest pop up shop ever. Oh, and they made it remote-control operated, too. The pop up shop achieved its goals, but it was arguably shorter-lived than the brand intended. Lasting only a day, the shop met an untimely demise at the hands (or wheels) of a trolley.
3) Apparel Pop Up Shops in Australian Luxury Hotels
The Canadian brand Kit and Ace came up with a clever idea to get their proprietary wrinkle-free clothes in the hands of travelers. Their marketing teams paired up with a handful of select luxury hotels for limited engagements in Australia, the US, and the UK. Although the concept of putting products for travelers in the hands of those who need them most isn't exactly earth-shattering, it represents one of the first times a high-end hotel got in on the pop up shop game. No doubt, this is a trend that's sure to spread soon.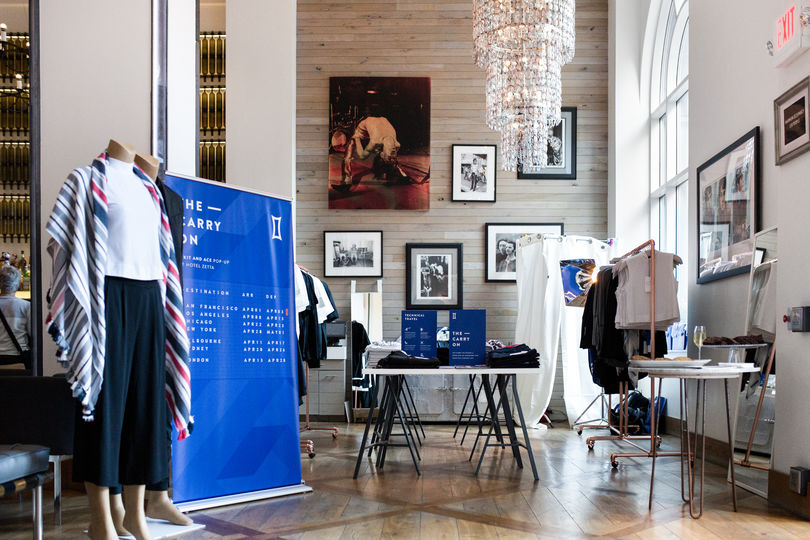 4) Fashion Trucks in the United States
The benefits for the owners of food trucks are obvious; expenses are low and scarcity keeps the customers coming back for more. However, the benefits for the consumer are still highly-debated amongst foodies. The only thing they can agree on is that food trucks are huge, especially with younger audiences… Fashion trucks, on the other hand, well, that remains to be seen. We know that fashion trucks are beginning to surge in the US, particularly in places where rents are sky high, such as New York City, and the nomadic pop up shops appear to be well received by shoppers.
Want to Be a Dublin Pop Up Shop Trendsetter?
At Popertee, we specialise in helping entrepreneurs find just the right spaces for their temporary ventures. Check out our Popertees now and begin planning your unique pop up shop today.