Popertee recently caught up with Volvo Irelands Brand & PR Specialist Emma O'Carroll to talk about all things pop-up and the rise in popularity for short-term retail theatre in the automobile industry.
Where did you hear about Popertee?
I came across them online. I was googling vacant properties in Dublin and their name came up in my search.
Why did Volvo decide to utilise experiential marketing and more specifically the pop-up concept for this campaign?
The Volvo product range has gone through a huge transformation process since the new generation of Volvos started to come to market in 2015 with the new XC90. As a niche brand we knew that although people may have seen our ads, people wouldn't necessarily have had the opportunity to have a tangible experience with the new generation product and brand.
In recent years there has also been a shift in how consumers are buying their cars. 90% of their research is done online so less time is spent in dealerships researching different brands; therefore we decided we wanted to reach out to our customers – we wanted to disrupt them in their daily lives where they shop, hang out, get coffee etc and introduce them to the brand.
What were the goals and expectations before the campaign was executed?
Primarily brand awareness, both our Dundrum and Grafton Street pop up shops were timed with the launch of new products. We launched the new XC60 in Dundrum, followed by the XC40 in 32 Grafton Street. We set KPI's for footfall figures, test drive requests and brochure requests, but more importantly we wanted visitors to be able to visit the shop and have a unique brand experience in a relaxed Scandinavian- inspired environment.
The staff working in the shops were briefed to focus on the customer experience as opposed to having strict quotas for transactional selling. In our Dundrum pop up shop there was a coffee bar where customers could relax, hook up to our free WIFI and enjoy great coffee and Swedish Fika, there was also a kids' area where children could build their own Volvo, race the different Volvo ride on cars and enjoy the Volvo fun packs. We also hosted VIP workshops with our brand ambassadors Dermot Bannon and Suzie McAdam. In our Grafton Street unit we were quite limited in terms of space and therefore restricted in terms of brand activities but we managed to build in a small coffee bar and seating area for customers to enjoy.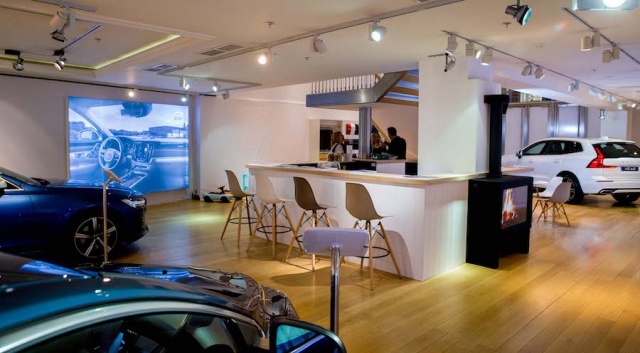 How did the pop-up shop compare to other more traditional forms of advertising that Volvo use?
It allowed customers a more immersive brand experience and created great talkability. It was also a very measurable activation. We were able to measure footfall all the way through to sales which is not always as easy with ATL campaigns.
What kind of media attention was earned as a result of creating an engaging unit to promote the brand?
We got great feedback from both activation's. Our Dundrum pop up shop was the first ever car pop up shop in Dundrum and our Grafton Street pop up was also a first for Grafton Street so they both got quite a lot of coverage across motoring, lifestyle and business media.
What was the general feedback and outcomes from the campaign?
Overall very positive. Following our first pop up in Dundrum, we conducted some independent research to get an idea of consumer sentiment and the results were very positive towards this kind of activity. We were also very pleased by the number of leads generated from both activation's.
Would you recommend using pop-up shops/short term retail to other brands looking to make an impact?
Yes. We were very happy with the results, hence why we decided to open two pop ups in 2017. I suppose it probably varies on the brand and what you're trying to achieve, but we were delighted with the results and overall feedback.
Looking for a Pop-up space?
If you don't already have a venue selected for your pop up shop, Popertee can help! Browse our listings to find a space that suits your unique needs now. If you've got a space you think would be the ideal venue for someone else, you can also list it on our site for free.